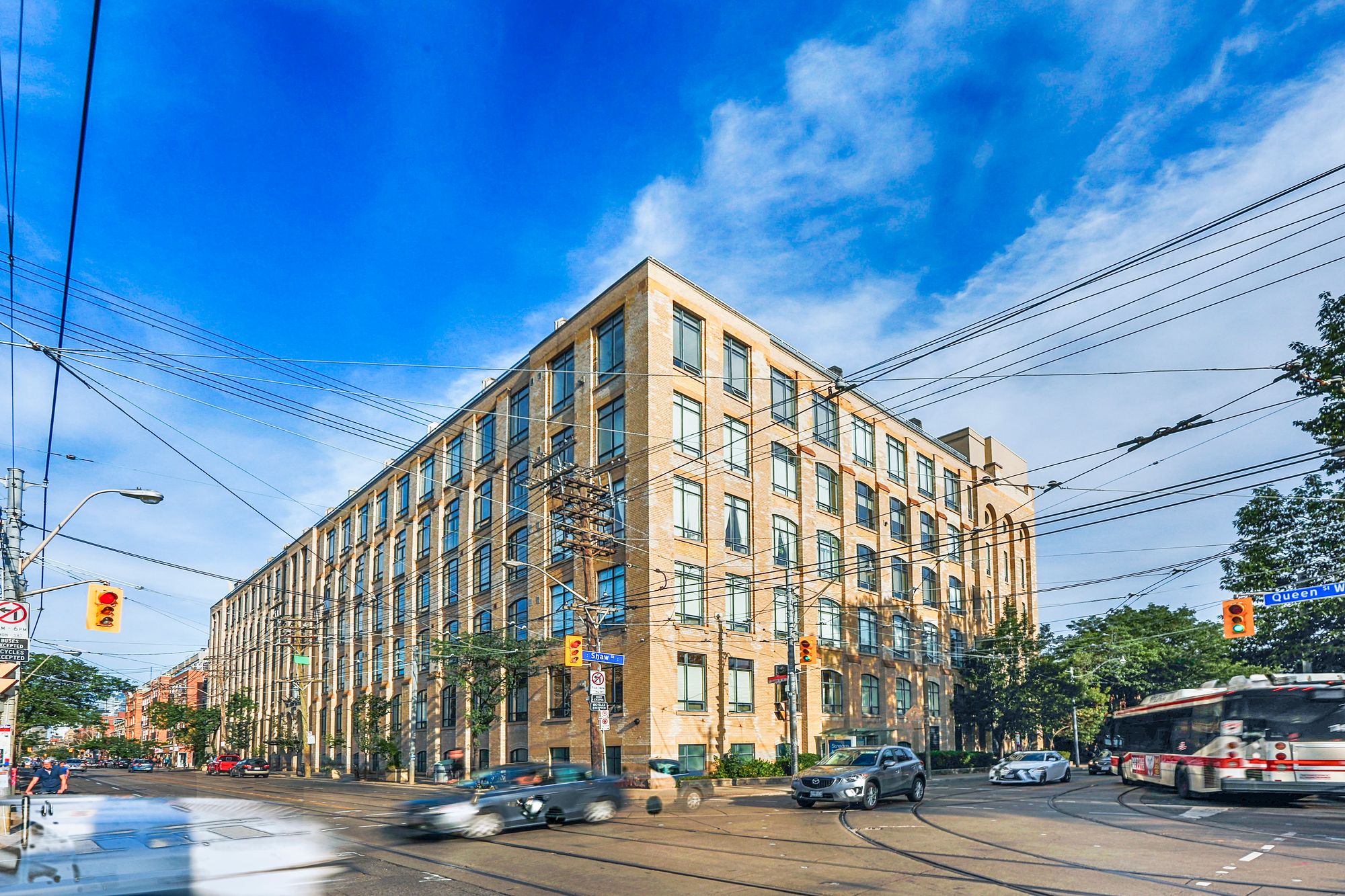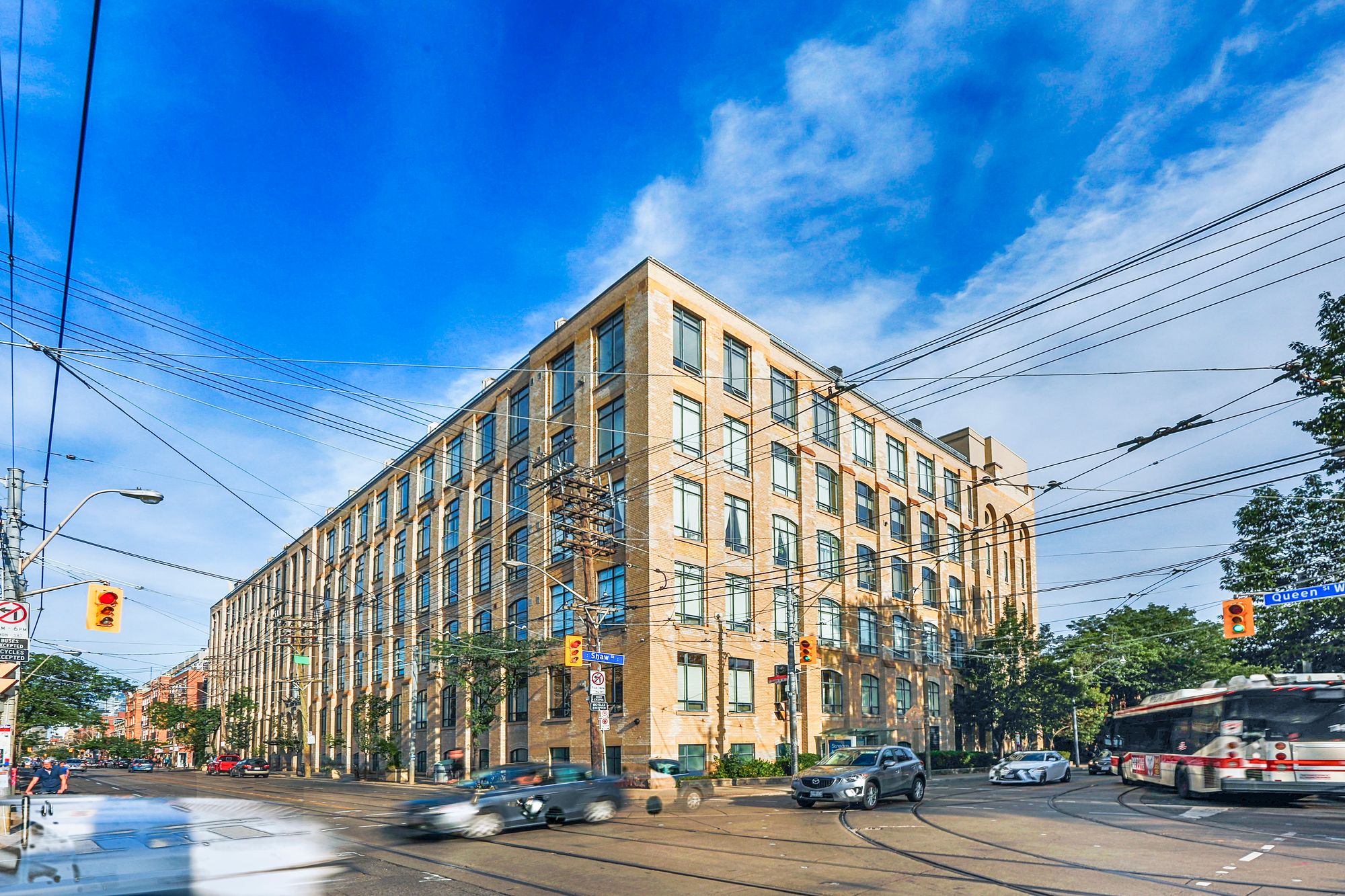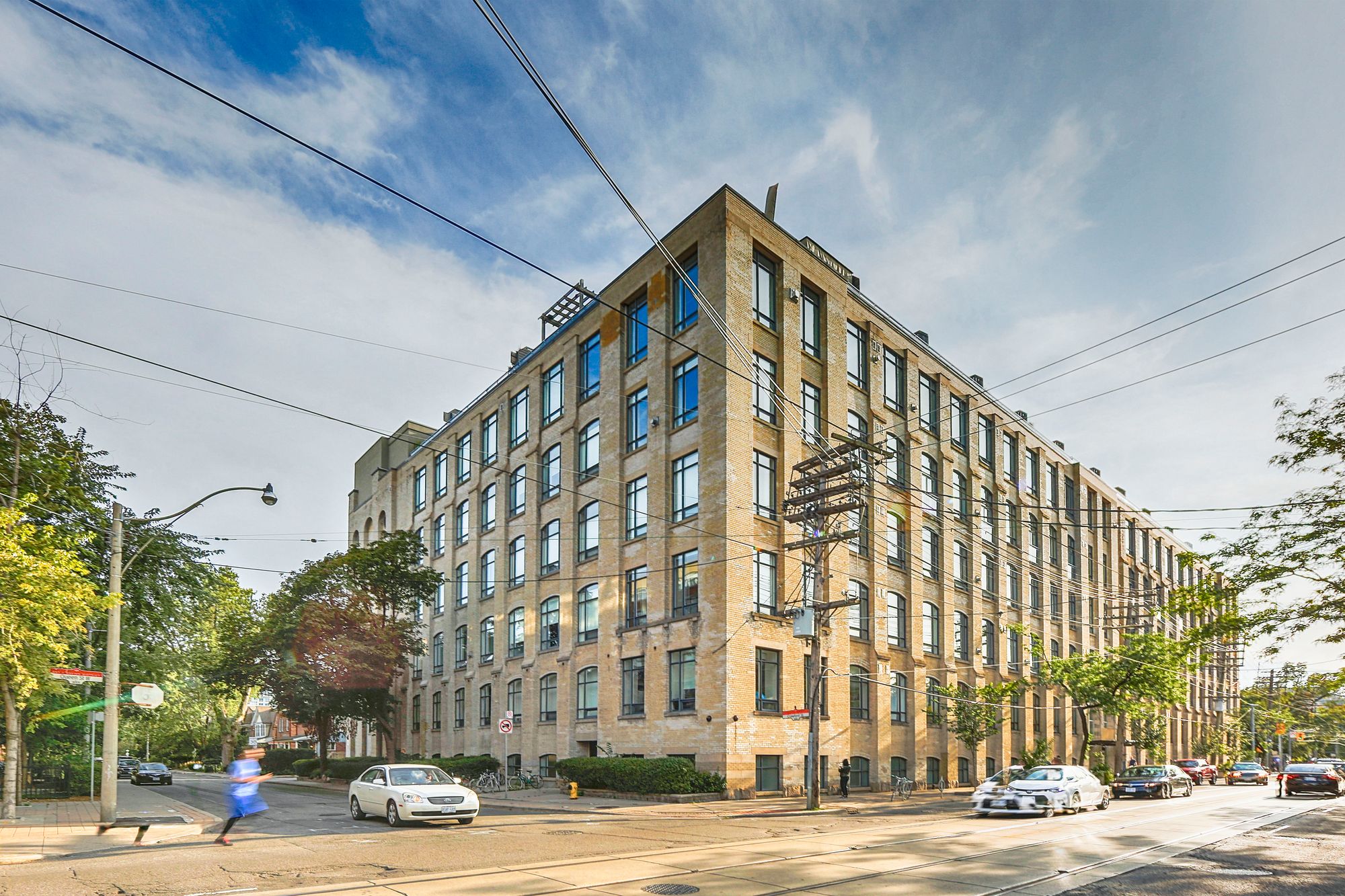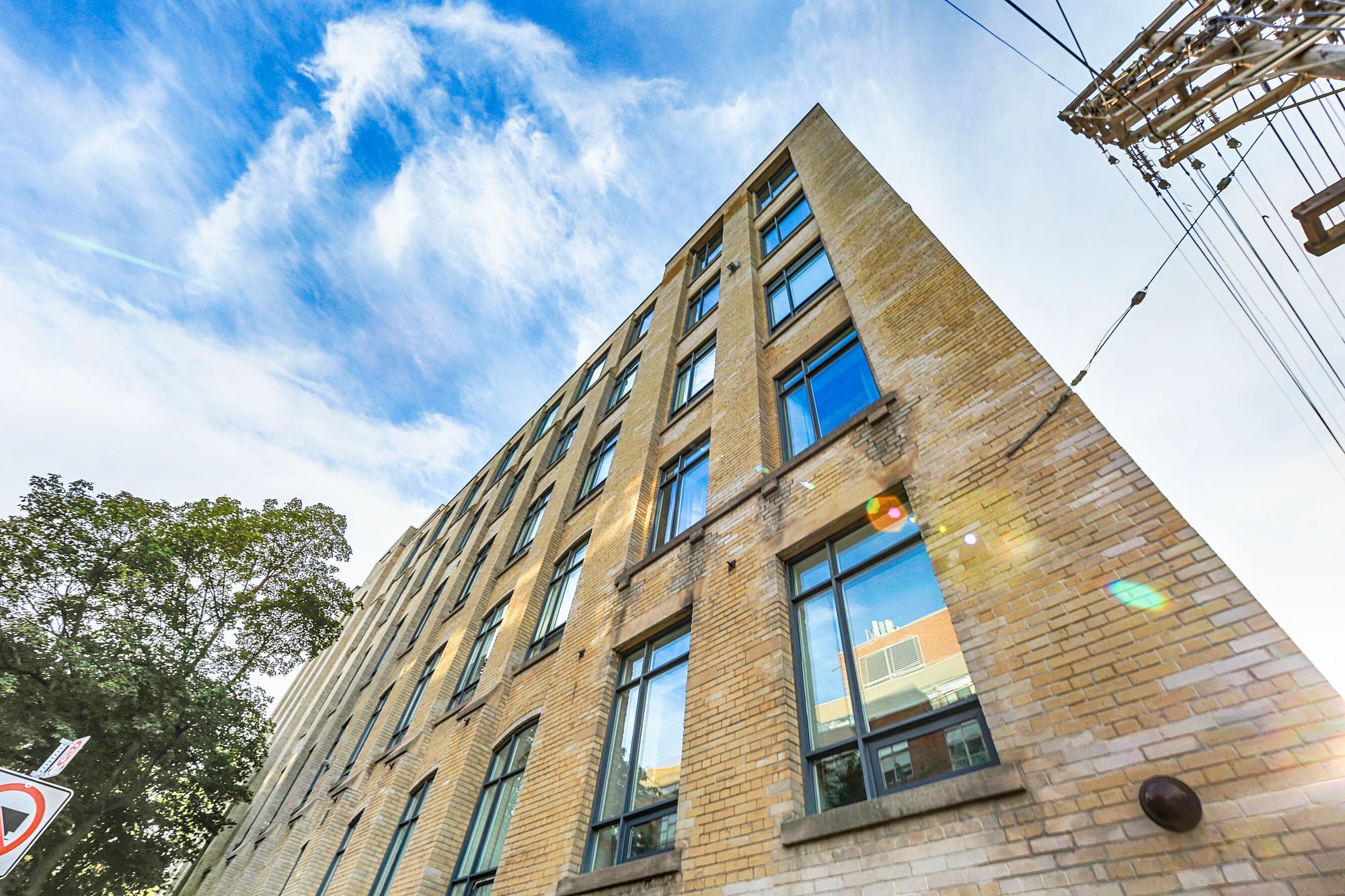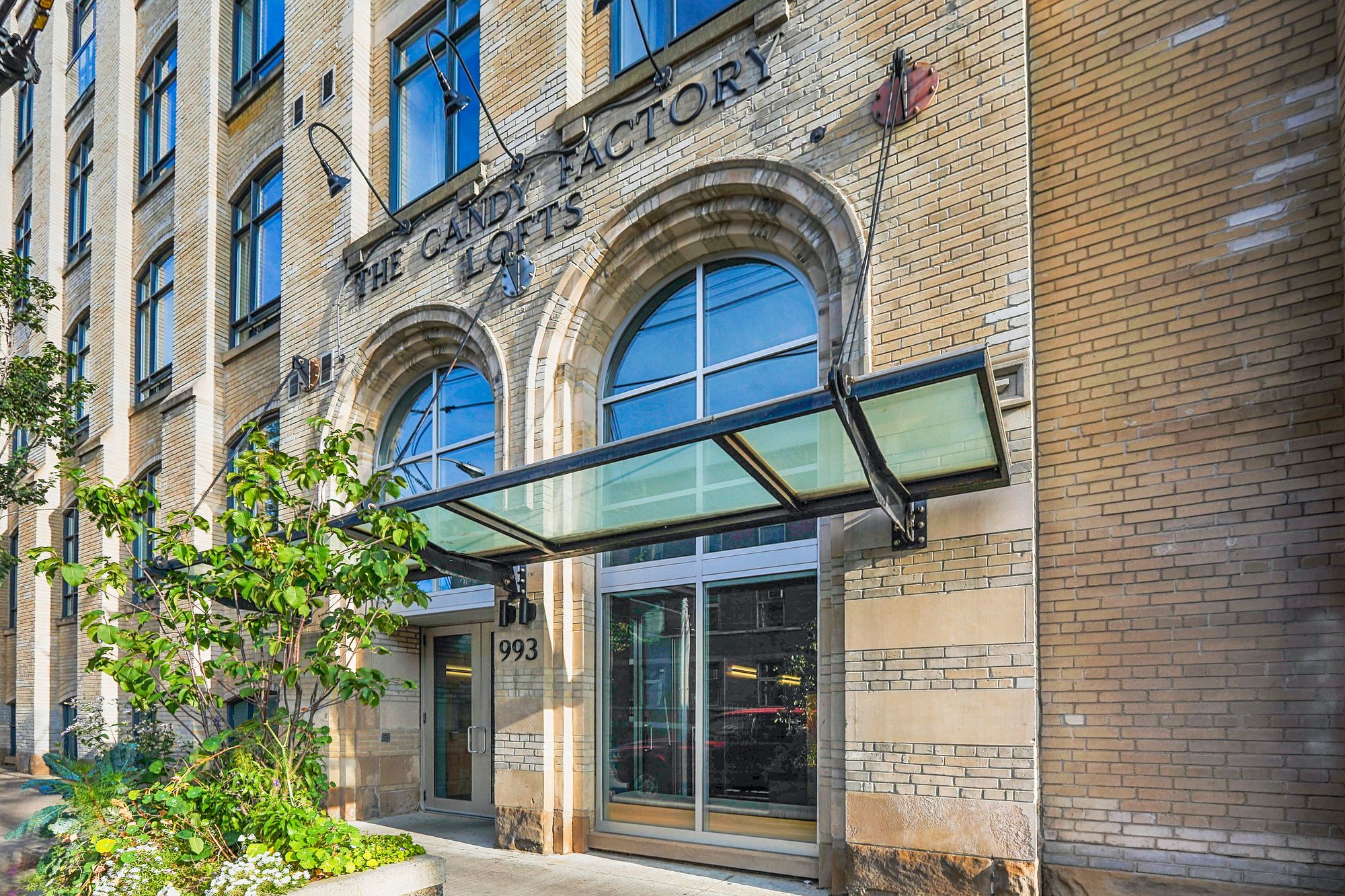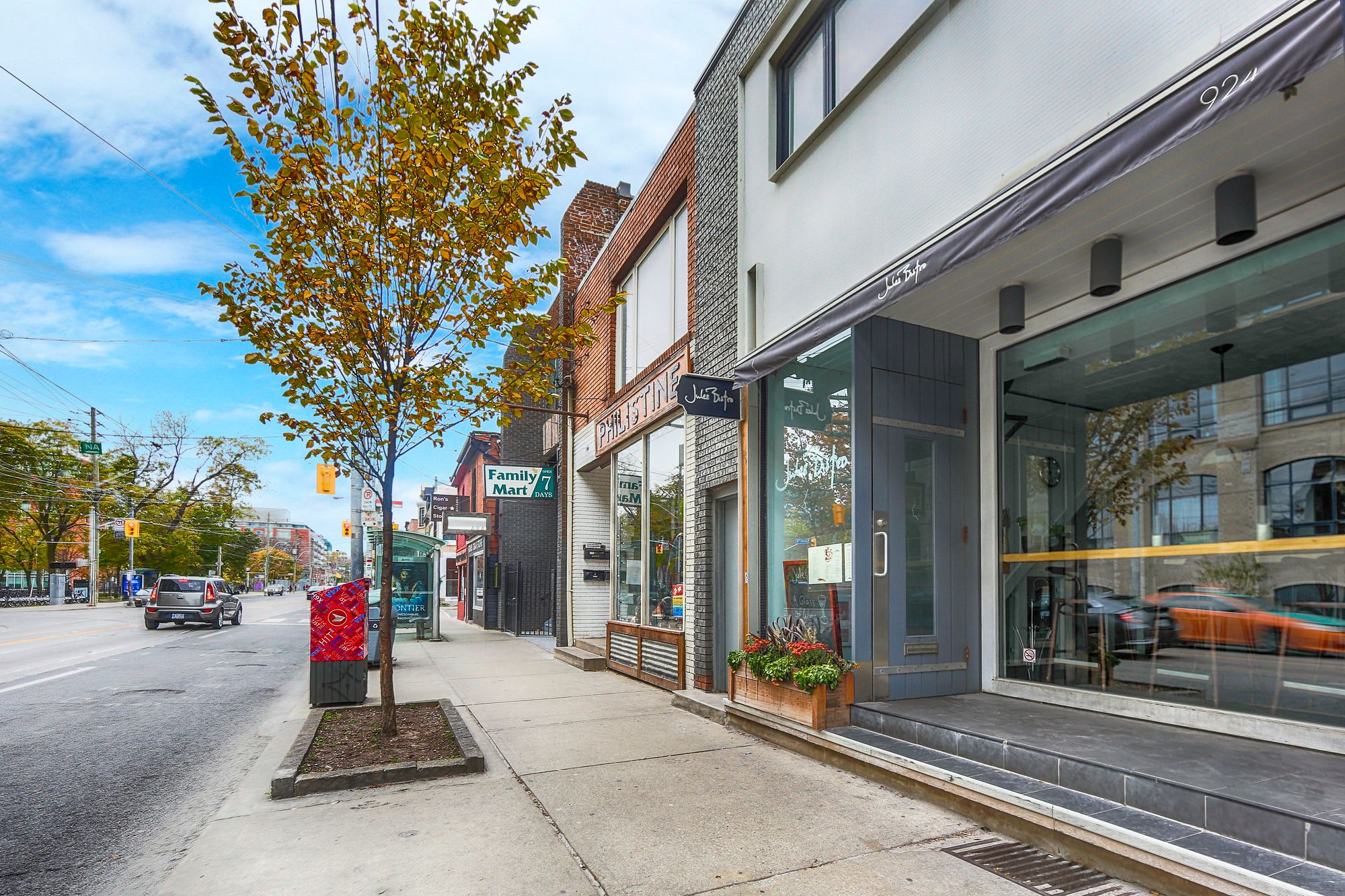 993 Queen St W
1
Listing for Sale
for Sale
1
Listing for Rent
for Rent
Developer
Metro Ontario Group
Property Management
Nadlan-Harris Property Management
Unit Size Range
800 - 3600 SQFT
About this loft
Thanks to Willy Wonka, many childhood dreams have involved living inside a candy factory. In Toronto, it's also a goal for many adults. These more mature dreamers, however, aren't thinking of fully functioning factories — they're daydreaming about the Candy Factory Lofts at 993 Queen Street West. These Toronto lofts are everything a loft buyer could imagine and more, as Toronto's industrial legacy is preserved on the outside, while elegantly renovated homes lie within.
The original structure, created to house the Ce de Candy Company's manufacturing plant, was built in the 1930s. Their sweets are no longer produced in the heart of downtown Toronto (they've moved over to Newmarket), and the Ce de Candy Company probably had no idea how significant this building would be 70 years after its construction.
The factory-to-loft conversion took place in 1999 — making it one of the earlier conversions in the city — and was spearheaded by the renowned Metrontario Group. The result of the project was 121 authentic Queen West condos in one of the hottest neighbourhoods in Toronto. It was not only lofts that trendsetters at the turn of the new millennium were after, but also Queen West.
The Candy Factory certainly has an edge over other buildings in the city, thanks to its character-filled façade. The cool, light brickwork and myriad of warehouse-style windows call the attention of shoppers strolling along Queen Street. The sizeable sign sitting just above two soaring arched doorways begs one question from passersby: "I wonder what they look like inside?"
Another clue that this building is special is the extremely low turnover rate, and the substantial price that buyers are willing to pay for Queen West condos for sale in this complex. Yet another hint is the fact that producers have chosen 993 Queen Street West as a location for numerous commercials and movies. And we won't name names, but rumour has it a few prominent actors and artists also inhabit the building.
If you aren't frightened away by the hefty price tags, you'll want to keep reading — the amenities at the Candy Factory Lofts might be a real tipping point. The building is decked out with a gym, a common rooftop terrace, a concierge, a party room, guest suites, and parking for residents and visitors.
The Suites
Original elements are aplenty: from hardwood floors to Douglas fir and yellow pine beams, to sandblasted exposed brick. History buffs, design lovers, and pretty much anyone with common sense will appreciate the authenticity and historicism that embody these homes.
Thankfully, the Candy Factory Lofts were converted before condos started to generally shrink in size. Instead, the homes are shockingly large, with every single home here being larger than the average Toronto condo size. Loft sizes begin at a generous, but still modest, 920 square feet. Larger units in the building, on the other hand, can span up to an impressive 4,200 square feet.
Notable two-storey penthouses boast spiral staircases, private rooftop terraces, and 14 foot ceiling heights. Even some of the "humbly" sized one bedroom units feature raised bedrooms, in that rare yet highly sought after mezzanine style. Others feature raised dens or dining rooms, just a few steps up. One even boasts a wine room.
While the homes certainly vary in style, one thing is certain here: each unit is unique.
The Neighbourhood
Every homeowner is also equidistant (give or take a few steps down the hallway or an extra floor on the elevator) to the vast greenery of Trinity Bellwoods Park. Neighbours flock here during summer months for picnics, pickup games of baseball, a few hours spent tossing a Frisbee around, or even a tennis match. The park is even well-used during the wintertime, as the north end features a skating rink, a community centre houses two indoor pools, a gym, and a track for walking and running, while the dog bowl is also filled with off-leash pooches all year round.
The only thing in between the Candy Factory Lofts and Trinity Bellwoods is West Queen West, which, conveniently enough, happens to have been named one of the coolest neighbourhoods in the world by Vogue Magazine in 2014.
And the area certainly lives up to its title. Carefully curated boutiques doling out everything from handcrafted housewares to specialty cocktail ingredients can be found here. Shopping isn't the only activity, though. The dining and nightlife scene on Queen West is perhaps one of the best in Toronto, and the street features the highest concentration of art galleries in the city. Even lodging along West Queen West has had to keep up: the Drake and the Gladstone are a couple of "art hotels" that have popped up over the last decade or so.
Transportation
While driving in the centre of the downtown core isn't always pleasant, parking spaces at 993 Queen Street West hint that residents are probably car owners as well. For those who drive, Queen West is the closest east-west arterial route, while Ossington, Dufferin and Bathurst Streets are good options for north-south travel.
For those heading out of town, Billy Bishop Toronto City Airport can be reached in just under 10 minutes by car, or slightly over 20 when using public transit. Alternatively, Pearson International Airport is accessible in under an hour using the UP service from the Bloor GO/UP station, or in about 20 minutes by car via the Gardiner Expressway and the 427.
Residents using the TTC for local travel can hop on a streetcar that makes a stop right outside the building, on Queen Street West. This route even runs 24 hours a day, 7 days a week. From here, passengers can transfer onto north-south streetcars on Bathurst, or subway trains at Osgoode Station on the University-Spadina line.
1
Listings For Sale
Interested in receiving new listings for sale?
1
Listings For Rent
Interested in receiving new listings for rent?
Property Highlights
Listing History for The Candy Factory Lofts
Nearby Amenities
Stats, Trends & Rankings
The Candy Factory Lofts vs The Queen West Area
The Candy Factory Lofts's Avg
Building Trends At The Candy Factory Lofts
Days on Strata
Units at The Candy Factory Lofts spend an average of
25
Days on Strata
based on recent sales
List vs Selling Price
On average, these lofts sell for
above
the list price.

Offer Competition
Lofts in this building have an
AVERAGE
chance of receiving
Multiple Offers
Turnover of Units
On average, each unit is owned for
4.3
YEARS
before being sold again
Property Value
Decrease
in property value within the past twelve months
Price Ranking
Highest price per SQFT out of
47
condos in the Queen West area
Sold Units
8
Units were
Sold
over the past twelve months
Rented Units
13
Units were
Rented
over the past twelve months
Sales vs Rental Values For This Loft
Average Cost Per Sqft
$962
Sales Price Range
$900,000 - $1,209,500
Rental Price Range
$4,000 - $5,150
1 Bed + Den
944 - 1550 SQFT
Average Cost Per Sqft
$1,101
Sales Price Range
$1,200,000 - $1,700,000
Rental Price Range
$4,500 - $5,000
Average Cost Per Sqft
$1,085
Sales Price Range
$1,375,000 - $2,430,000
Rental Price Range
$6,500 - $6,500
2 Bed + Den
1600 - 2000 SQFT
Average Cost Per Sqft
No Data
Rental Price Range
$5,600 - $6,500
How Often Are Units Listed?
Average Sales Availability
Average Rental Availability
Ratio of Unit Type in Building
44%
1 Bed + Den
937 - 1550 SQFT
Average Sales Availability
Average Rental Availability
Ratio of Unit Type in Building
19%
Average Sales Availability
Average Rental Availability
Ratio of Unit Type in Building
25%
2 Bed + Den
1249 - 2300 SQFT
Average Sales Availability
Average Rental Availability
Ratio of Unit Type in Building
14%
Maintenance Fees
The Candy Factory Lofts vs The
Queen West Area
The Candy Factory Lofts's Avg
monthly maintenance fee
Neighbourhood Avg
monthly maintenance fee
Similar lofts