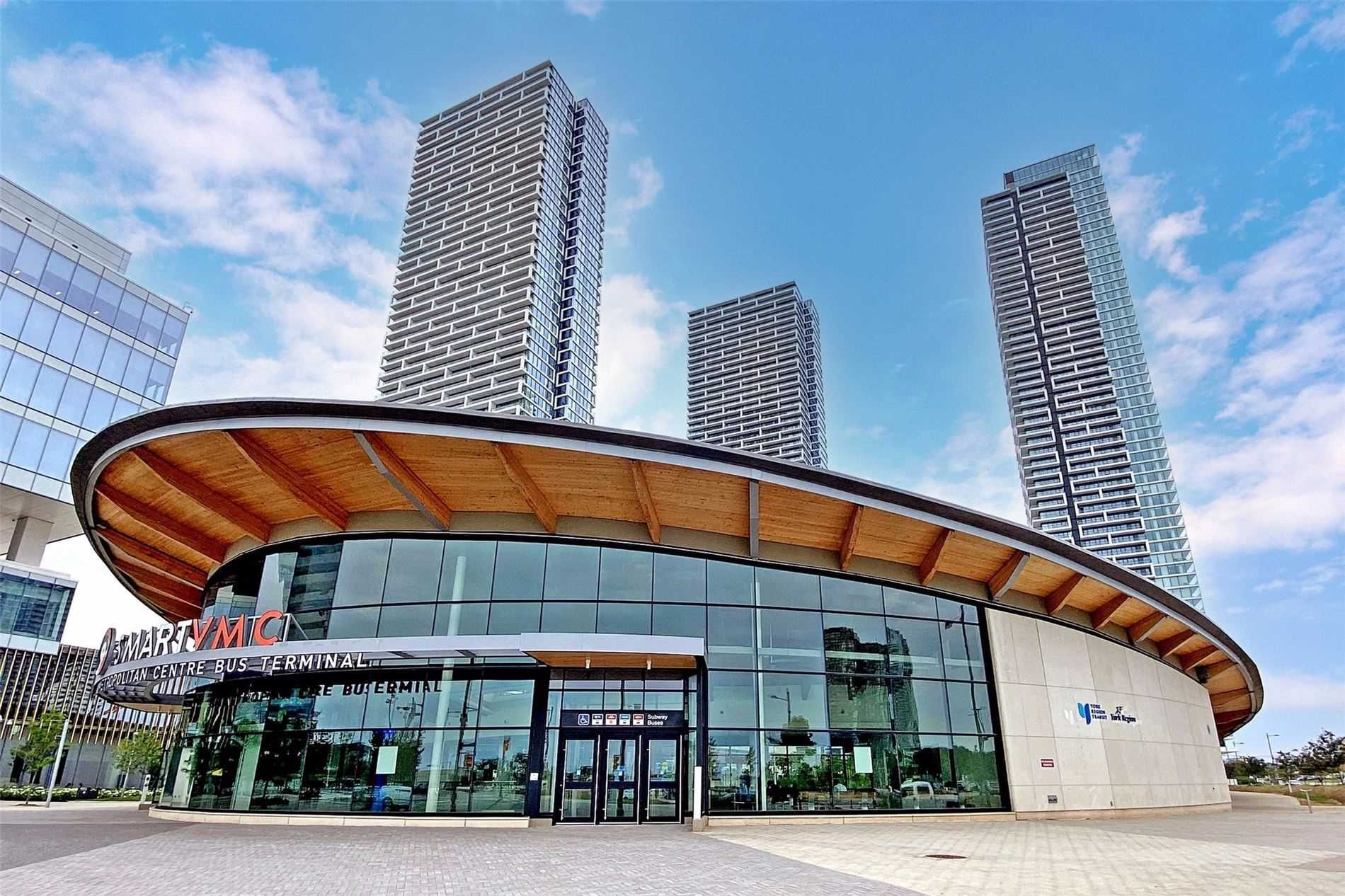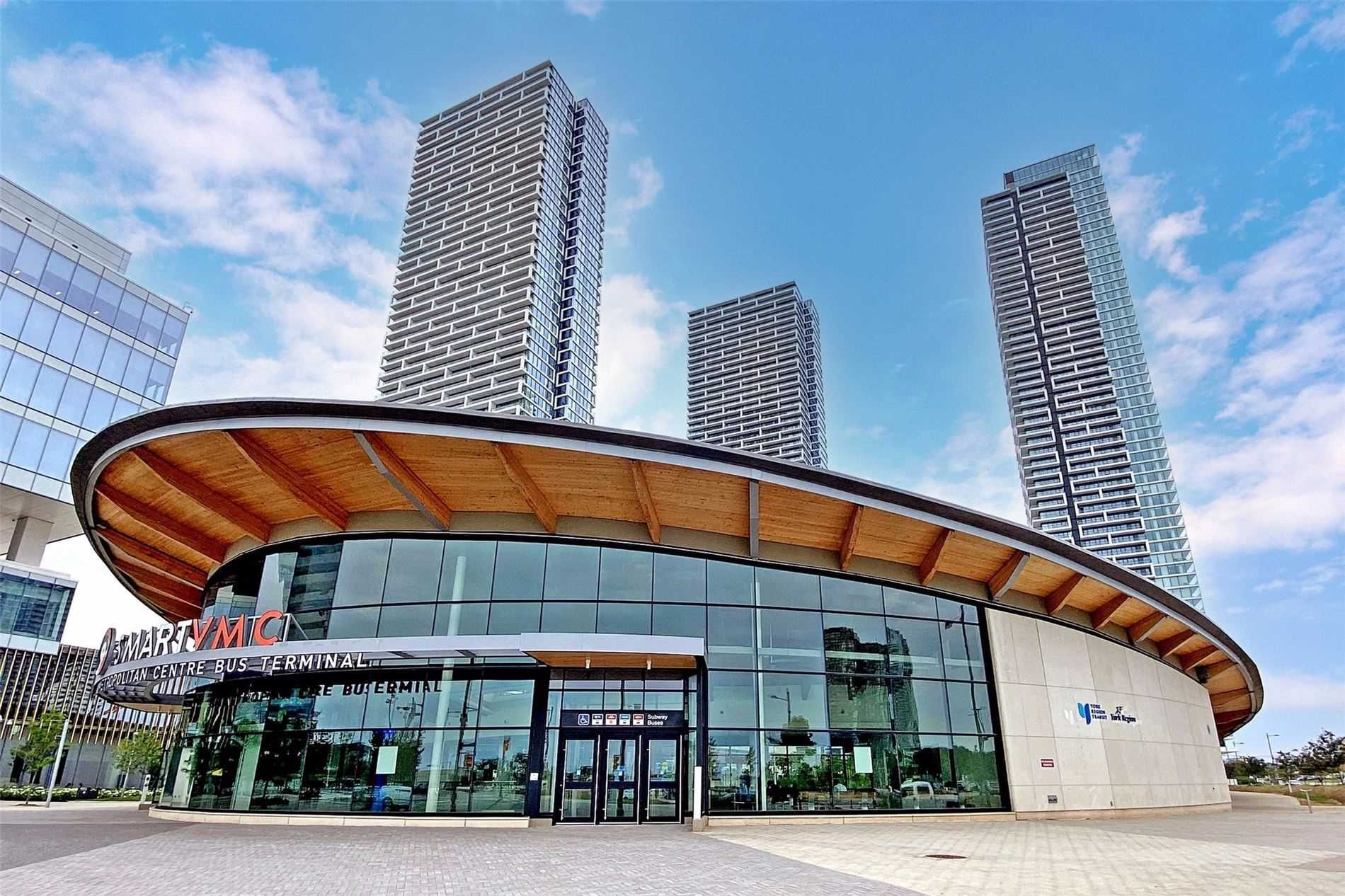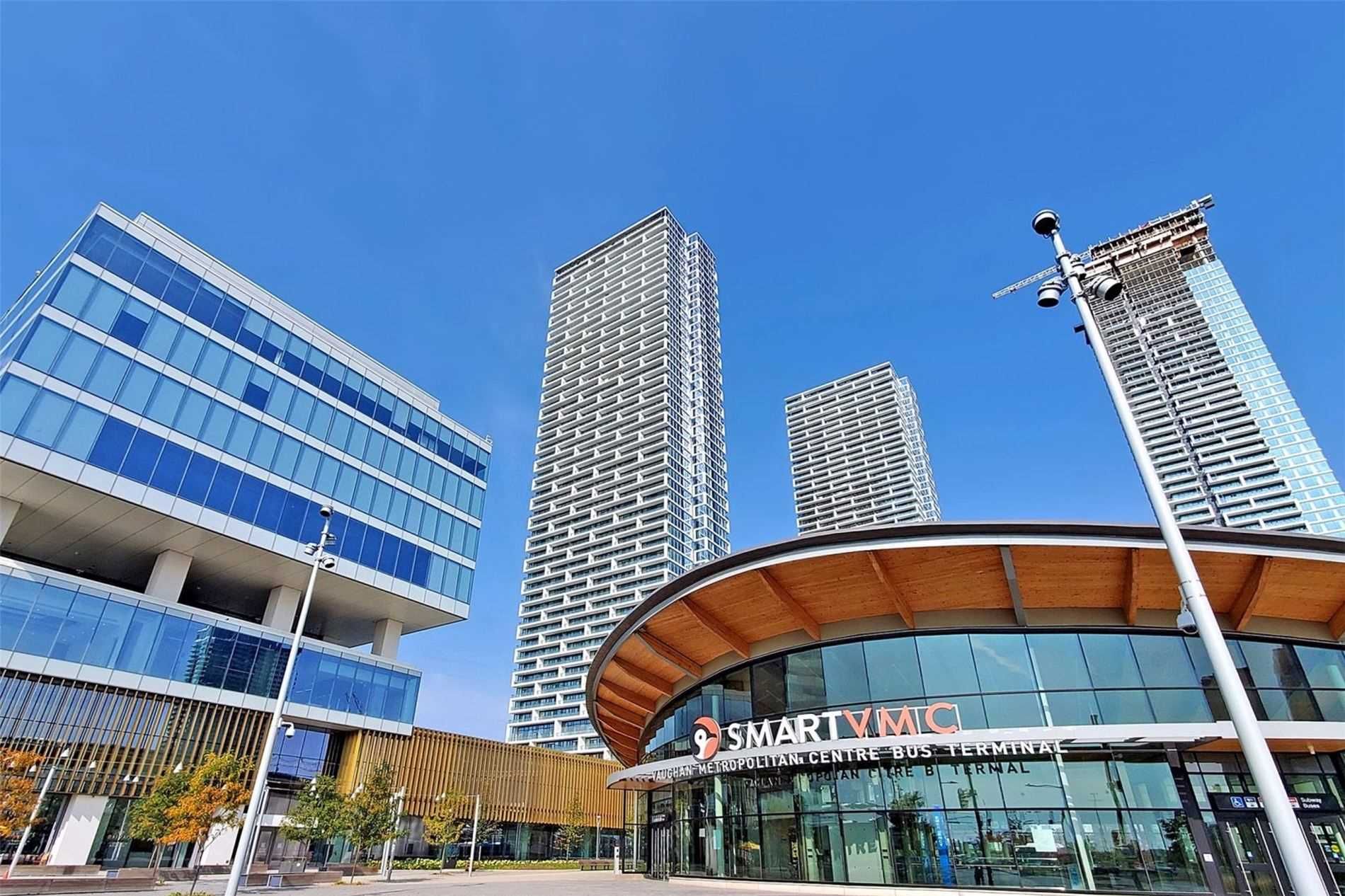 5 Buttermill Ave, 898 Portage Pkwy, 3210 Highway 7 & 100 New Park Place
23
Listings for Sale
for Sale
22
Listings for Rent
for Rent
Developer
CentreCourt Developments Inc.
Unit Size Range
500 - 1899 SQFT
Unit Availability
Above Average
Everything You Need to Know About 5 Buttermill Avenue
Transit City Condos consists of 3 towers, standing 55 storeys tall in the Vaughan Metropolitan Centre neighbourhood. The development is so large that it actually encompasses 4 addresses: 5 Buttermill Avenue, 898 Portage Parkway, 3210 Highway 7 & 100 New Park Place.
Its location was selected to provide condo residents with easy access to the recently-built Vaughan Metropolitan Centre Subway Station, less than a 2-minute walk from the building.
Price of condos at 5 Buttermill Avenue
Here is some pricing data, based on transactions over the past 12 months:
The average condo sale price can range from $528,000 for a one bedroom to $835,000 for a 3 bedroom plus den. The average price for rentals can range anywhere from $1,700 to $3,600 per month.
From a cost per-square-foot perspective, units here are selling at $958 PSF, and leasing at $3.42 PSF.
How many condos have sold and rented at 5 Buttermill Avenue?
In the past year, 271 suites have rented, and 77 have sold.
There are currently 19 units available for sale and 9 for rent. On average, a condo will sell in 17 days and rent in 19, which means this condo is in high demand.
The Suites
With 1,700 condos in the complex, it goes without saying there's plenty of selection for prospective buyers. Suite sizes range from 501 to 1,899 square feet. All units come equipped with high-end finishes and appliances.
Units can have different types of flooring depending on the original occupant's selection. Some feature luxurious hardwood, while others have laminate or a combination of wood-vinyl. Prospective buyers will find efficiently-designed kitchens with integrated appliances and stone countertops. As well, units come with stackable laundry.
Bathrooms are well-appointed, and residents here love their rain showerheads. Large floor-to-ceiling windows provide an abundance of natural light, giving units a warm atmosphere.
What amenities does Transit City Condos offer?
5 Buttermill Avenue contains an extensive 24,000 square foot amenity centre as one would expect from Concord. Residents have every convenience available, including:
Fitness Centre
Rooftop Pool and Deck
Indoor Track
Saunas
Yoga Studio
Basketball and Squash Courts
Party Room
Business Centre
Condo Fees
Maintenance fees are $0.66 per-square-foot. This is higher than the neighbourhood average of $0.64 per-square-foot.
However, condo fees only cover the general upkeep of the building. Residents must pay separately for:
Hydro
Heat
Air conditioning
Water
The Neighbourhood
Transit City Condos is surrounded by great local amenities. Shopping is easy with dozens of big box stores near 898 Portage Parkway, plus the colossal SmartCentres Woodbridge on the opposite side of Highway 400.
For dining out, there are multiple options close to home. They include Via Panini Italian Sandwiches, Gordo's Diner, Botticelli Restaurant, and St. Louis Bar & Grill. Coffee lovers have one of the best sources close by with Balzacs just around the corner.
Vaughan is a fantastic place to raise families as this is an area where kids can still explore the great outdoors. Boyd Conservation Park provides kilometres of walking trails with beautiful natural scenery. Green spaces are evenly spread throughout residential areas, and there are great schools with athletic facilities nearby. 5 Buttermill Avenue is a somewhat commercial area. But the 9 acres of green space on-site should be plenty.
And of course, we could hardly mention Vaughan without acknowledging Canada's Wonderland — arguably Canada's best park for young kids.
What is the walk score of 5 Buttermill Avenue?
This property has a walk score of 43, making it easier to get around the neighbourhood with a car. The transit score is much better at 86, offering an impressive public transportation network. Meanwhile, the bike score is decent at 64.
What is the local real estate market like?
The neighbourhood of Vaughan Metropolitan Centre does not have a particularly active condo market. However, anyone looking to purchase here will be glad to know they're in buyer territory. Strata.ca data shows that, on average, buyers are paying about 2.5% under the asking price.
However, the opposite is true for the rental market. It is landlords who have the upper hand with tenants currently paying about 2% above the asking lease price.
Building Age
This master-planned condo community was completed in 2020, adding 1,700 much-needed units to the city of Vaughan. Concord built this complex; the same developers behind Toronto's famous CityPlace.
Transportation
The Transit City Condos live up to their name by providing incredible access to public transportation. Vaughan Metropolitan Bus Terminal is right outside the building. A subway station with the same namesake is just a 5-minute walk away for easy commuting to the downtown core. The total ride only takes about 50 minutes.
Motorists, however, have it made. The nearest on-ramp to Highway 400 is only 1 kilometre from the building. As well, there is easy access to the 407 and Highway 7. Even with a little traffic, drivers can make it downtown in roughly 30 to 40 minutes.
Summary
Units at 5 Buttermill Avenue are among the most expensive in the area with an average cost per-square-foot of $958. It is the third most expensive out of nine nearby condos. But this property makes up for it by offering world-class amenities, while keeping maintenance fees roughly on par with the neighbourhood average. And with convenient access to public transit, plus its close proximity to Highway 400 — it's not hard to see why this condo is in high demand all year round.
Have your heart set on this area, but nothing on the market that interests you? Then be sure to consider 7895 Jane St, 950 Portage Pkwy and 2916 Highway 7, which are all comparable.
23
Listings For Sale
Interested in receiving new listings for sale?
22
Listings For Rent
Interested in receiving new listings for rent?
Property Highlights
Listing History for Transit City Condos
Nearby Amenities
Stats, Trends & Rankings
Transit City Condos vs The Vaughan Metropolitan Centre Area
Transit City Condos's Avg
Building Trends At Transit City Condos
Days on Strata
Units at Transit City Condos spend an average of
21
Days on Strata
based on recent sales
List vs Selling Price
On average, these condos sell for
above
the list price.

Offer Competition
Condos in this building have an
AVERAGE
chance of receiving
Multiple Offers
Turnover of Units
On average, each unit is owned for
YEARS
before being sold again
Property Value
Decrease
in property value within the past twelve months
Price Ranking
Highest price per SQFT out of
10
condos in the Vaughan Metropolitan Centre area
Sold Units
77
Units were
Sold
over the past twelve months
Rented Units
271
Units were
Rented
over the past twelve months
Sales vs Rental Values For This Condo
Average Cost Per Sqft
$996
Sales Price Range
$503,000 - $535,000
Rental Price Range
$1,500 - $2,550
1 Bed + Den
503 - 699 SQFT
Average Cost Per Sqft
$968
Sales Price Range
$525,000 - $550,000
Rental Price Range
$2,100 - $2,350
Average Cost Per Sqft
$943
Sales Price Range
$575,000 - $845,000
Rental Price Range
$2,250 - $2,900
2 Bed + Den
606 - 900 SQFT
Average Cost Per Sqft
$901
Sales Price Range
$578,000 - $787,500
Rental Price Range
$2,250 - $3,500
Average Cost Per Sqft
$854
Sales Price Range
$715,000 - $985,000
Rental Price Range
$2,900 - $3,900
How Often Are Units Listed?
Average Sales Availability
Average Rental Availability
Ratio of Unit Type in Building
10%
1 Bed + Den
503 - 699 SQFT
Average Sales Availability
Average Rental Availability
Ratio of Unit Type in Building
11%
Average Sales Availability
Average Rental Availability
Ratio of Unit Type in Building
45%
2 Bed + Den
606 - 950 SQFT
Average Sales Availability
Average Rental Availability
Ratio of Unit Type in Building
26%
Average Sales Availability
Average Rental Availability
Ratio of Unit Type in Building
10%
3 Bed + Den
949 - 949 SQFT
Average Sales Availability
Average Rental Availability
Ratio of Unit Type in Building
1%
Maintenance Fees
Transit City Condos vs The
Vaughan Metropolitan Centre Area
Transit City Condos's Avg
monthly maintenance fee
Neighbourhood Avg
monthly maintenance fee
Similar condos