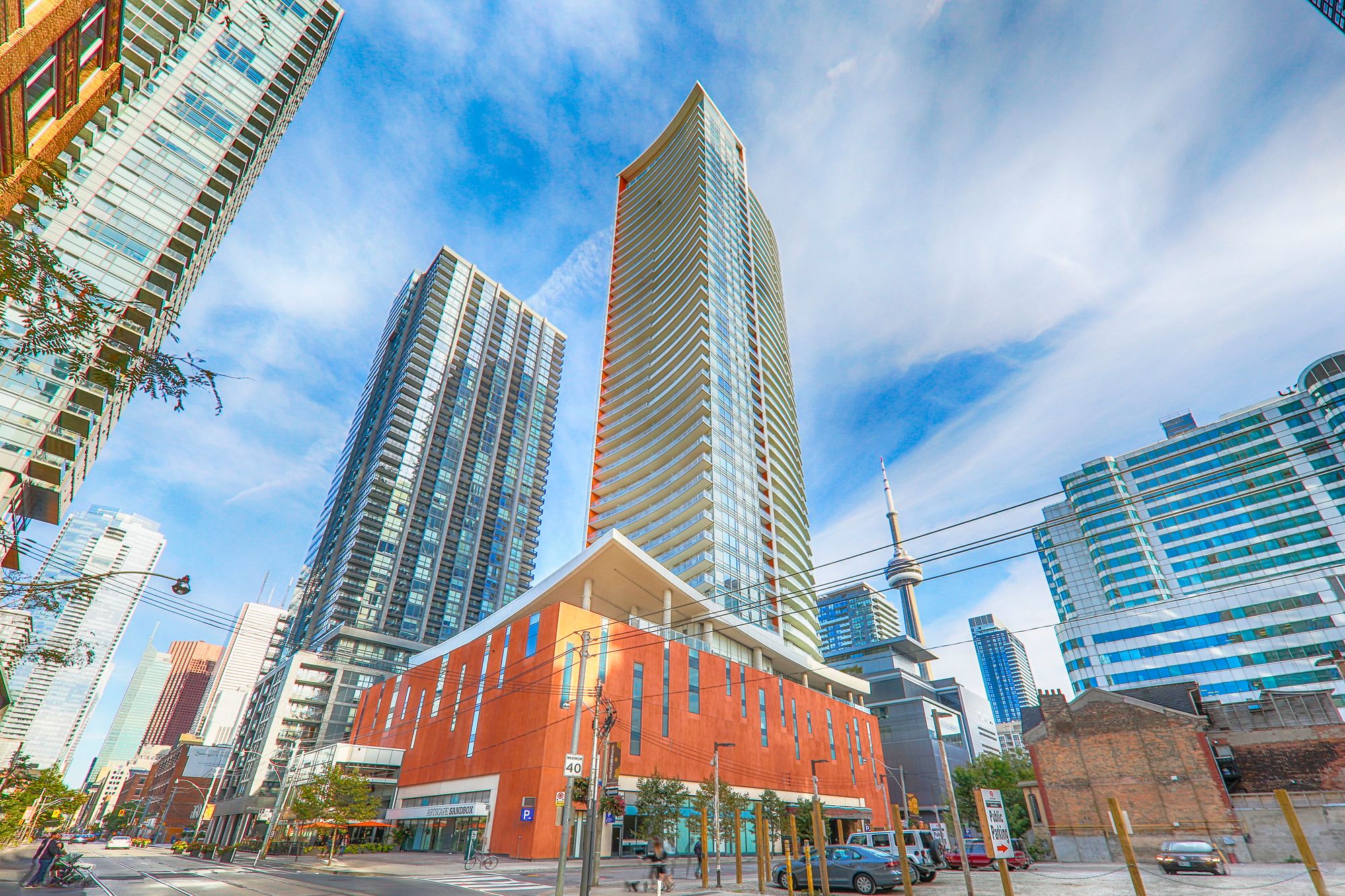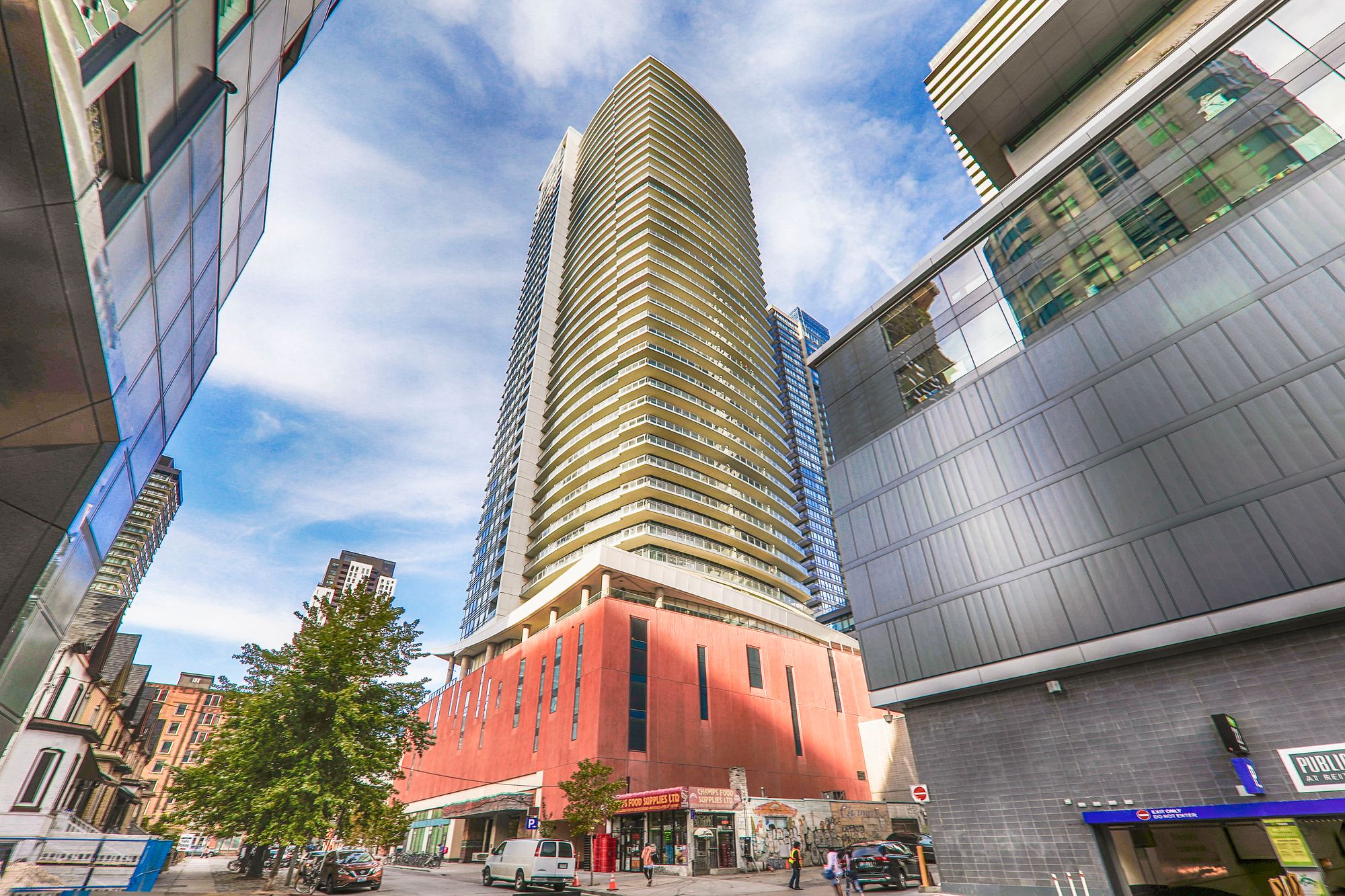 21 Widmer St
8
Listings for Sale
for Sale
2
Listings for Rent
for Rent
Cinema Tower
21 Widmer St
Cinema Tower
8
Listings for Sale
for Sale
2
Listings for Rent
for Rent
0
Unit Availability
Above Average
Developer
Daniels Corporation
Property Management
Larlyn Property Management
Unit Size Range
334 - 1600 SQFT
21 Widmer St, Toronto
About this condo
Condo Overview
The Cinema Tower Condos was likely named for its extremely close proximity to Toronto's acclaimed TIFF Bell Lightbox — the two buildings back onto one another. Thankfully for culture addicts, 21 Widmer is situated in the King West neighbourhood and surrounded by entertainment venues galore, including the 14-screen Scotiabank Theatre and the Princess of Wales Theatre.
Daniels Corporation and Kirkor Architects evidently understood the need to prioritize density when building the Cinema Tower Condos, resulting in a building that's 440 units large. Soaring to 43 storeys tall, the high-rise, glass and steel clad edifice with rounded balconies was completed in 2013.
The six-storey podium at 21 Widmer houses retail businesses on the lowest level and the exclusive "Club Cinematheque" on the highest. In the latter, residents have access to a gym with a multi-use sports court, as well as a sauna, movie theatre, rooftop terrace with barbecues, games room, meeting room, and party room. A concierge and security guard are onsite to ensure the building functions smoothly, while visitor parking and guest suites make life easier for guests of residents.
And to top it all off, environmentally conscious buyers will feel like they've done their part when purchasing a home at the Cinema Tower. Not only is rainwater harvested in the building, but there are also separate garbage chutes to promote recycling. Even the parking garage encourages green commutes, thanks to its rideshare program and bike parking.
The Suites
Unfortunately for prospective buyers who are sold on the building, some of the original buyers aren't going anywhere any time soon — a handful of individuals were able to purchase rent-to-own units back in 2013. On the other hand, with over 400 suites, Toronto condos for sale in the Cinema Tower are bound to make rather frequent appearances on the market.
The enormous quantity of units also makes for a good amount of variety in terms of size and layout. Suites begin at around 400 and reach to approximately 1,500 square feet, and floor plans vary from studios to three bedroom homes. As a result, the building is filled with living spaces suitable for single professionals and child-free couples, as well as budding families.
The interiors at 21 Widmer are elegant yet unfussy. Hardwood and ceramic floors can be found throughout the building, complemented by 9-foot ceilings. The bathrooms are especially impressive spaces, with their spacious bathtubs, low-flow sinks, and dual flush toilets.
The Neighbourhood
How can life ever be boring when living in the middle of the Entertainment District of Canada's biggest metropolis? Even without leaving the immediate area, residents can find new things to do all the time.
The Rogers Centre and the Scotiabank Arena take less than 10 and 20 minutes to reach by foot, respectively. At both of these venues, sports fans can cheer on their favourite teams, while music buffs can go crazy at some of the city's biggest concerts. While residents may not visit the CN Tower or Ripley's Aquarium regularly, the close proximity to these downtown Toronto attractions comes in handy when out-of-towners come to visit.
Gathering groceries is hardly a chore when living at 21 Widmer, thanks to the Independent City Market that's a 3-minute walk away from home. Alternatively, residents can walk 6 minutes to the corner of King and Spadina, where they can stock up at both Fresh & Wild Food Market and the LCBO across the street.
Transportation
Getting around the city is a breeze with an address like 21 Widmer, regardless of one's preferred method of transportation. In less than 2 minutes, residents can walk to a streetcar stop on King Street at John, from which one can head east or west at any hour of the day. Travelers heading north and south via public transit can either walk to Spadina to the west or University to the east, with the former offering connections onto streetcars and the latter onto subway trains.
Drivers, on the other hand, are equally well positioned when living at the Cinema Tower Condos. Adelaide and Richmond are both nearby one-way streets that allow cars to bypass more congested major roads. Spadina can be used to reach the Gardiner Expressway in a matter of minutes, while University can be used to drive as far north as the 401.
8
Listings For Sale
Interested in receiving new listings for sale?
2
Listings For Rent
Interested in receiving new listings for rent?
Amenities
Maintenance Fees Cover
Maintenance fees include
Water
Owner / renter pays separately
Hydro
Heat
Air Conditioning
Past Sold & Rented Listings
Stats, Trends & Rankings
Price Per Square Foot
Cinema Tower vs The
King West Area
More Expensive
per SQFT compared to the neighbourhood average
Cinema Tower's Avg
price per SQFT
$1,243
/ SQFT
Neighbourhood Avg
price per SQFT
$1,150
/ SQFT
Building Trends At Cinema Tower
Days on Market
Units at Cinema Tower spend an average of
14
Days on Market
based on recent sales
List vs Selling Price
On average, these condos sell for
above
the list price.

Offer Competition
Condos in this building have a
HIGH
chance of receiving
Multiple Offers
Turnover of Units
On average, each unit is owned for
5.8
YEARS
before being sold again
Property Value
Increase
in property value within the past twelve months
Price Ranking
Highest price per SQFT out of
95
condos in the King West area
Sold Units
35
Units were
Sold
over the past twelve months
Rented Units
109
Units were
Rented
over the past twelve months
Best Value
Cinema Tower offers the
best value
out of 95 condos in the King West neighbourhood
Return on Investment
Cinema Tower has the
highest ROI
out of 95 condos in the King West neighbourhood
Rental Yield
Cinema Tower yields the
highest rent prices
out of 95 condos in the King West neighbourhood
High Demand
Cinema Tower is the
most popular
building out of 95 condos in the King West neighbourhood
Sales vs Rental Values For This Condo
Average Cost Per Sqft
$1,075
Sales Price Range
$548,000 - $566,500
Rental Price Range
$1,550 - $1,900
Average Cost Per Sqft
$1,137
Sales Price Range
$655,000 - $901,600
Rental Price Range
$1,850 - $2,800
1 Bed + Den
596 - 791 SQFT
Average Cost Per Sqft
$1,157
Sales Price Range
$715,000 - $925,000
Rental Price Range
$2,125 - $2,800
Average Cost Per Sqft
$1,097
Sales Price Range
$990,000 - $1,070,000
Rental Price Range
$2,850 - $3,400
How Often Are Units Listed?
Average Sales Availability
Average Rental Availability
Ratio of Unit Type in Building
8%
Average Sales Availability
Average Rental Availability
Ratio of Unit Type in Building
44%
1 Bed + Den
596 - 821 SQFT
Average Sales Availability
Average Rental Availability
Ratio of Unit Type in Building
34%
Average Sales Availability
Average Rental Availability
Ratio of Unit Type in Building
16%
Average Sales Availability
Average Rental Availability
Ratio of Unit Type in Building
1%
3 Bed + Den
1500 - 1600 SQFT
Average Sales Availability
Average Rental Availability
Ratio of Unit Type in Building
1%
Maintenance Fees

Cinema Tower vs The

King West Area
More Expensive
per SQFT compared to the neighbourhood average
Cinema Tower's Avg
monthly maintenance
fee per SQFT
$0.84
/ SQFT
Neighbourhood Avg
monthly maintenance
fee price per SQFT
$0.75
/ SQFT
Similar condos