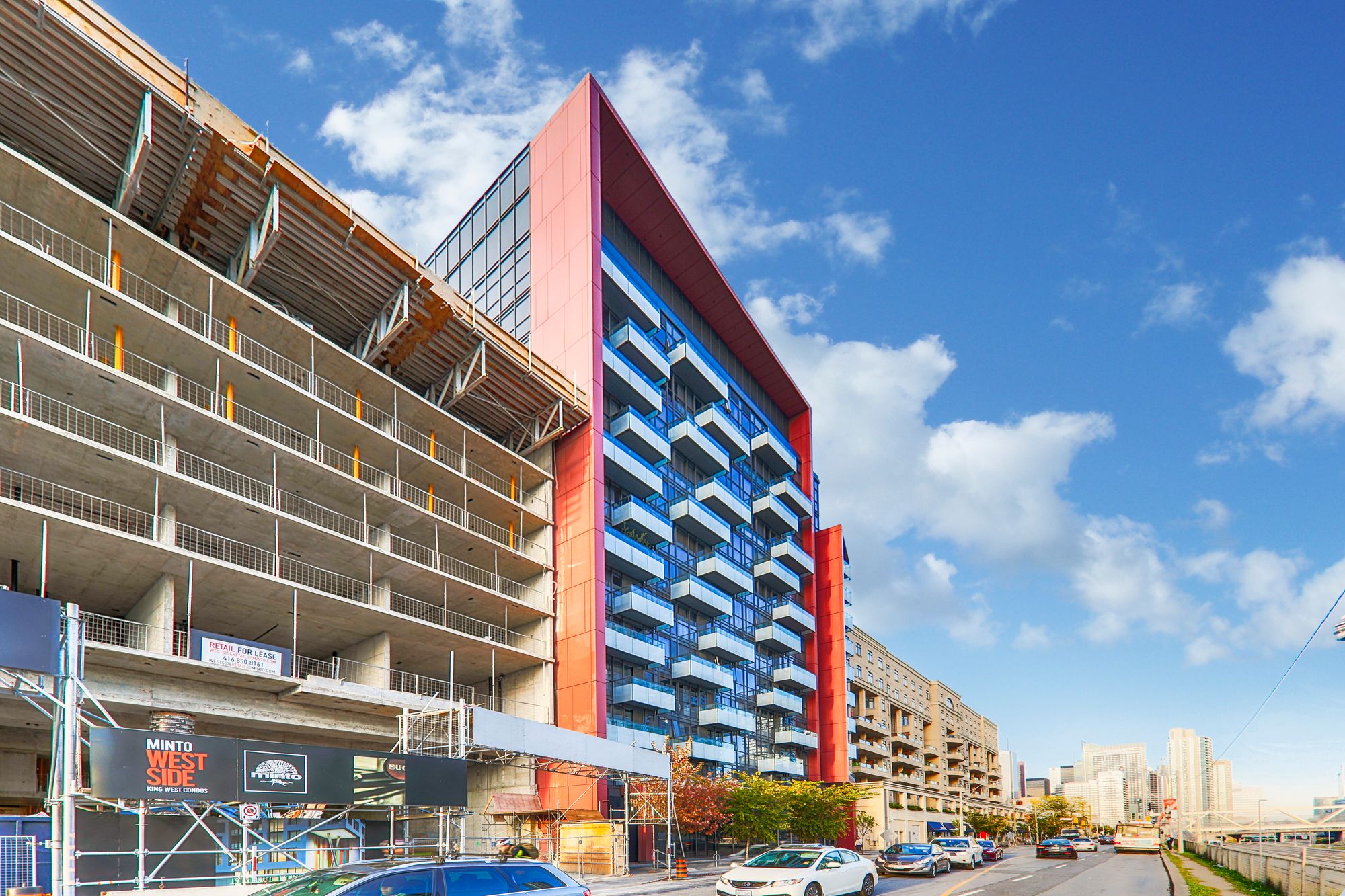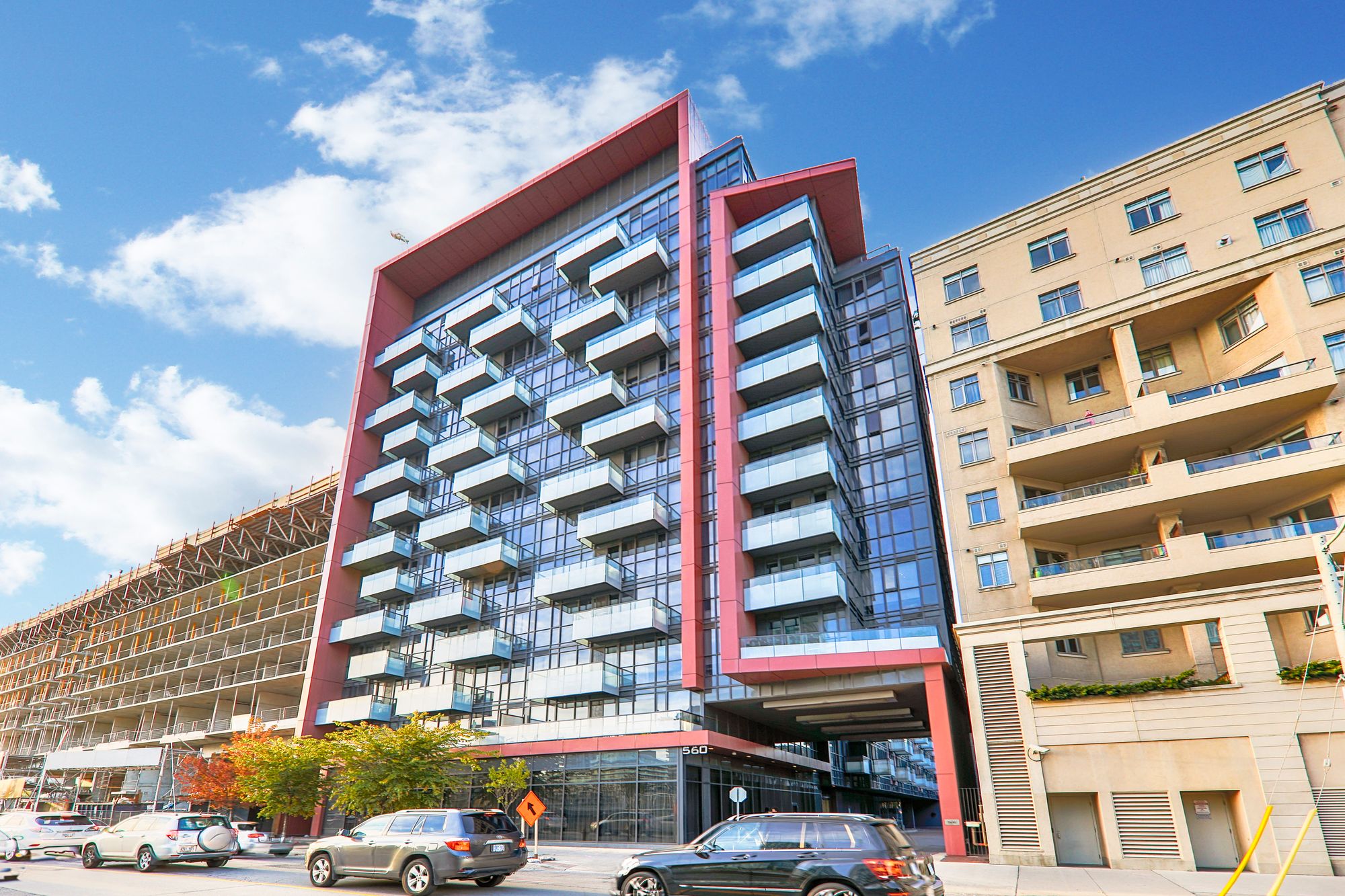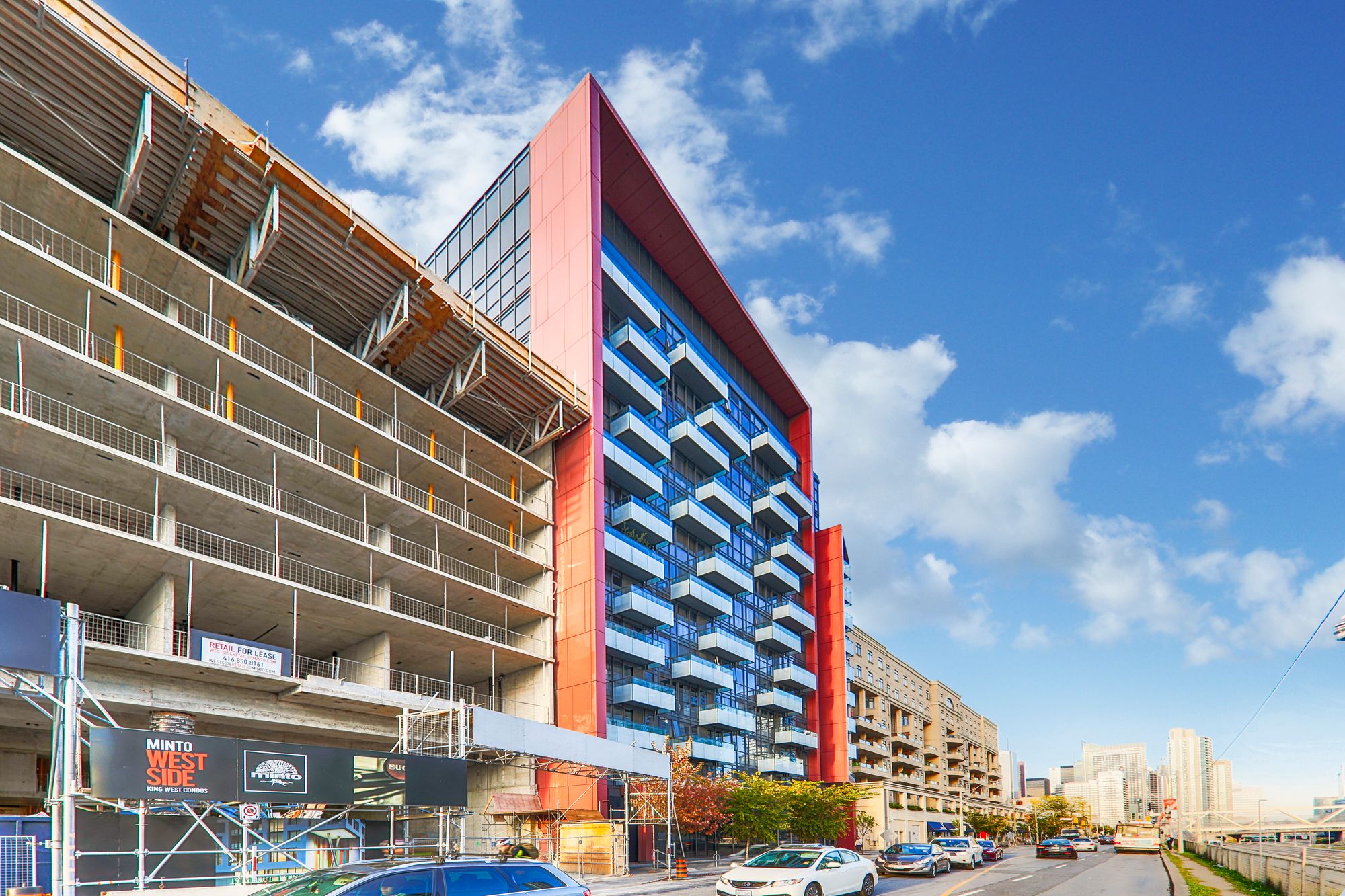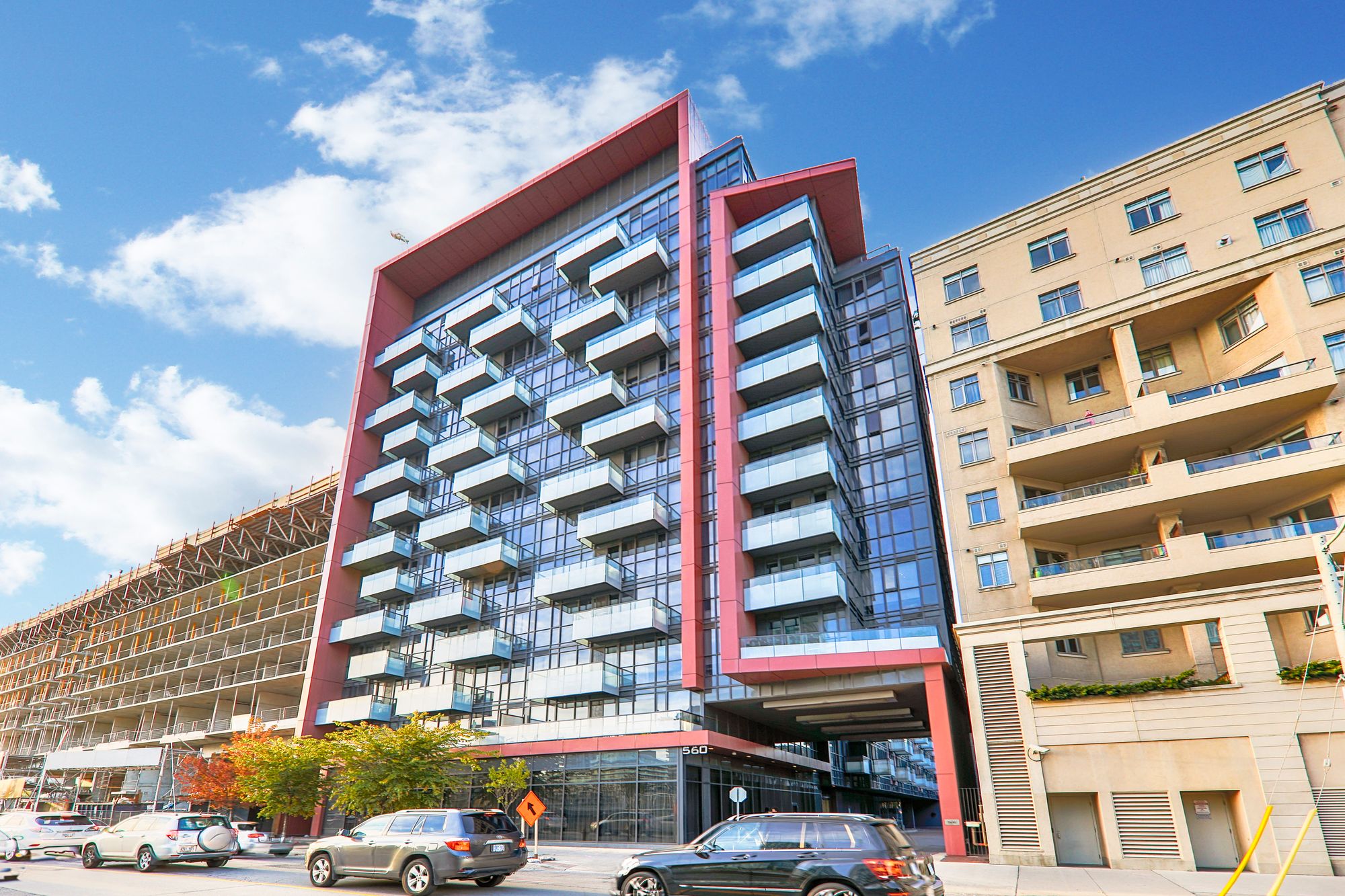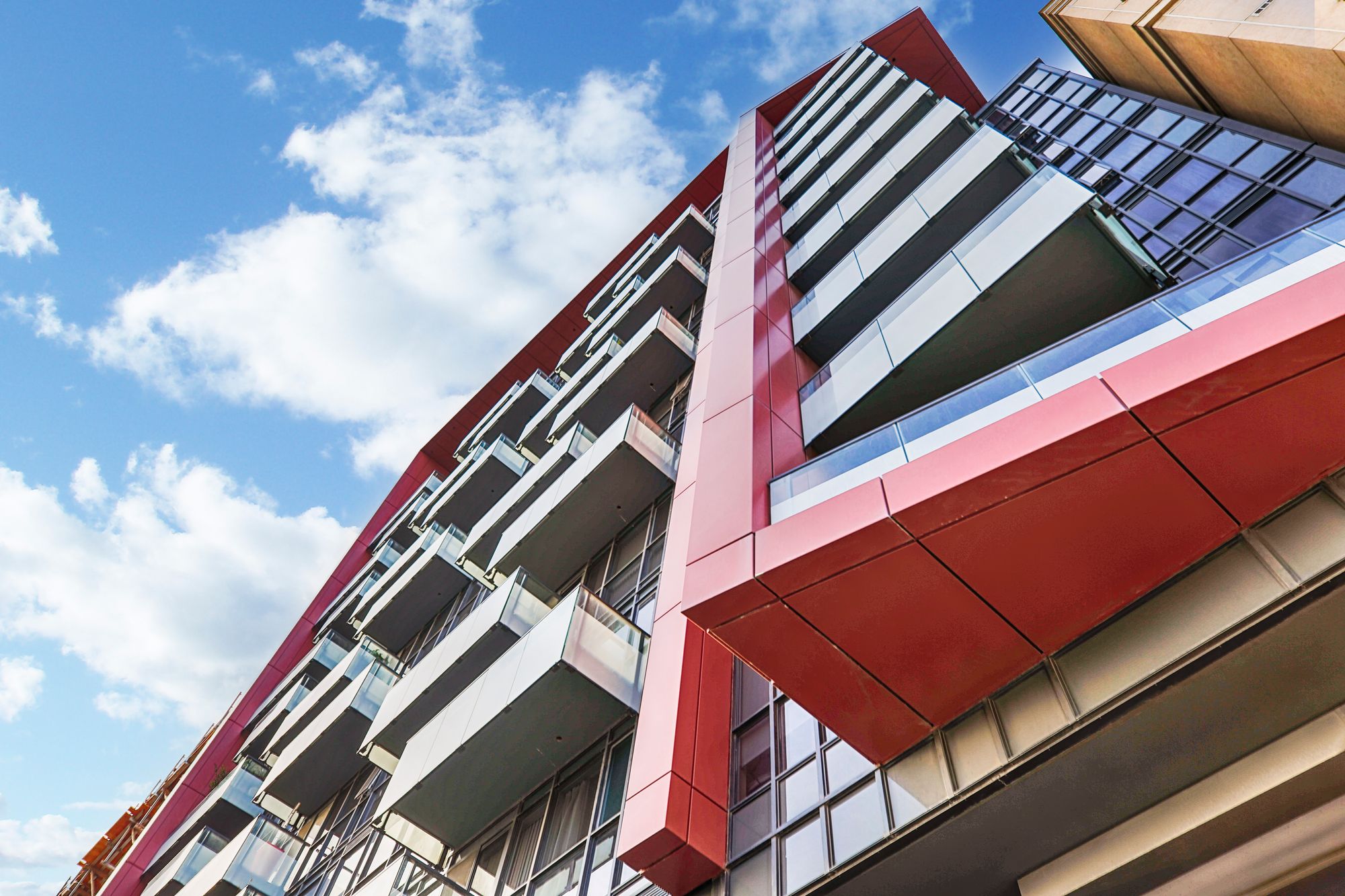 560 Front St W
1
Listing for Sale
for Sale
2
Listings for Rent
for Rent
Reve
560 Front St W
Reve
1
Listing for Sale
for Sale
2
Listings for Rent
for Rent
Property Management
Del Property Management Inc.
Unit Size Range
400 - 1500 SQFT
560 Front St W, Toronto
About this condo
Located at 560 Front St W, Reve is a strikingly stylish 14 storey building in the King West neighbourhood; the slate grey and burgundy exterior, coupled the unique, slanted box-like shape makes this property impossible to ignore. Additionally, the fact that this building is tucked into one of the most desirable neighbourhoods in the city, only amplifies its stature.
Reve was built in 2011, and provides residents with a reasonable offering of modern amenities; gym, sauna, party room, cinema room, meeting room, shared rooftop deck, concierge, and parking garage. As well, often overlooked but always appreciated — guest suites and visitor parking is available, so your friends and family can stay the night without crashing on your coach or bothering you about street parking.
In light of King West's youthful vibe, King West condos for sale are well suited to young professionals, couples, and first time home buyers. As a condo owner in this building, you'll never need to stray far for dining, entertainment, and urban convenience.
The Suites
If you're now worried that this desirable building won't have a unit for you — it's not that exclusive; there are 305 units in Reve, ranging in size from 435 square feet for a studio to 1455 square feet for a 3 bedroom + den. These Toronto condos break the trend a little when comes to modern design, with many units that are irregularly shaped with corner windows and unsymmetrical floor plans.
The price of units in this building varies considerably, and can go beyond 7 figures for the largest suites, but even smaller more affordable units have desirable finishes — hardwood floors, marble countertops, stainless steel appliances, soaker tubs in bathrooms, floor to ceiling windows, and some units have multiple floors. All units have balconies, and several units feature oversized terraces.
And should you ever feel claustrophobic in your condo, Garrison Common in only a few minutes away for walking trails at a historical site.
The Neighbourhood
Trendy, vibrant, eclectic — King West is one of the liveliest neighbourhood in the city, especially for young professionals. Known for brewpubs, unique restaurants, charming cafes, and its close proximity to the Entertainment District — with a condo in King West you can find something to keep you occupied every day of the week.
Whether you're celebrating a birthday, selecting a great spot for first date, or just too lazy to cook — there are countless high-end restaurants waiting to serve you; there's Le Sélect Bistro for French cuisine, Marben for a can't miss brunch, Rodney's Oyster House for seafood, Lee for French-Asian fusion, Patria for Spanish cuisine, and many more.
Sports fans are within walk distance of the Rogers Centre for Blue Jays games, and Scotiabank Arena is just a bus ride away. For a night on the town, you have microbreweries like Northern Maverick Brewing Co, there's SPiN Toronto for drinks and ping pong in a massive rec room like bar, Bar Buca is great for drinks on a patio, and if you need a wider selection, you can stroll east to the Entertainment District.
Caffeine connoisseurs — you can sub the word addicts there — will be thrilled by this location; Thor Espresso Bar, Love Child Social House, and Bayleys Brew Bar Smoothie Bar are around the corner on Bathurst. On King you'll find Starbucks, Brioche Dorée, Nook Café, and Tim Hortons. And on Portland, Jimmy's Coffee is waiting with a freshly brewed coffee.
Transportation
560 Front St W has a 93 Walk Score — pat yourself on the back if you thought of Doug Gilmour — so residents can easily accomplish their errands on foot; for grocery runs, there's a Rabba Fine Foods on Front, and Sobeys Urban Fresh Spadina nearby, both of which are less than a 10 minute walk from the lobby doors at Reve.
Public transit riders have north and southbound buses on Bathurst and Spadina, and east and westbound streetcars on King which connect to St. Andrew Station for subway lines, making it easy to navigate downtown Toronto.
Car owners can drive south on Spadina to Lake Shore Blvd for the nearest Gardiner Expressway on-ramp.
1
Listings For Sale
Interested in receiving new listings for sale?
2
Listings For Rent
Interested in receiving new listings for rent?
Property Highlights
Listing History for Reve
Stats, Trends & Rankings
Reve vs The King West Area
Building Trends At Reve
Days on Market
Units at Reve spend an average of
12
Days on Market
based on recent sales
List vs Selling Price
On average, these condos sell for
below
the list price.

Offer Competition
Condos in this building have an
AVERAGE
chance of receiving
Multiple Offers
Turnover of Units
On average, each unit is owned for
5.8
YEARS
before being sold again
Property Value
Decrease
in property value within the past twelve months
Price Ranking
Highest price per SQFT out of
95
condos in the King West area
Sold Units
12
Units were
Sold
over the past twelve months
Rented Units
34
Units were
Rented
over the past twelve months
Best Value Rank
Reve offers the
best value
out of 95 condos in the King West neighbourhood
Appreciation Rank
Reve has the
highest ROI
out of 95 condos in the King West neighbourhood
Rental Yield
Reve yields the
highest rent prices
out of 95 condos in the King West neighbourhood
High Demand
Reve is the
most popular
building out of 95 condos in the King West neighbourhood
Sales vs Rental Values For This Condo
Average Cost Per Sqft
$1,074
Sales Price Range
$535,000 - $705,000
Rental Price Range
$1,995 - $2,400
1 Bed + Den
570 - 700 SQFT
Average Cost Per Sqft
$1,033
Sales Price Range
$745,000 - $752,000
Rental Price Range
$2,400 - $2,850
Rental Price Range
$3,100 - $3,500
2 Bed + Den
749 - 1154 SQFT
Average Cost Per Sqft
$1,019
Sales Price Range
$1,025,000 - $1,025,000
Rental Price Range
$3,000 - $3,795
Rental Price Range
$4,200 - $4,500
How Often Are Units Listed?
Average Sales Availability
Average Rental Availability
Ratio of Unit Type in Building
7%
Average Sales Availability
Average Rental Availability
Ratio of Unit Type in Building
57%
1 Bed + Den
540 - 1300 SQFT
Average Sales Availability
Average Rental Availability
Ratio of Unit Type in Building
18%
Average Sales Availability
Average Rental Availability
Ratio of Unit Type in Building
4%
2 Bed + Den
700 - 1500 SQFT
Average Sales Availability
Average Rental Availability
Ratio of Unit Type in Building
11%
Average Sales Availability
Average Rental Availability
Ratio of Unit Type in Building
6%
3 Bed + Den
1172 - 1172 SQFT
Average Sales Availability
Average Rental Availability
Ratio of Unit Type in Building
1%
Maintenance Fees
Reve vs The
King West Area
Reve's Avg
monthly maintenance fee
Neighbourhood Avg
monthly maintenance fee
Similar condos