Toronto is home to a number of industrial conversions. From historic factories to unique schoolhouses, these units are not only special — but also hold a piece of Toronto history. Hard loft condos share some similarities with traditional condos: They have a property manager, condo board, and maintenance fees. But what sets them apart is their layout and design. After all, repurposing old buildings into liveable spaces demands creativity and an element of preservation.
It's not surprising that hard lofts are generally in high demand. On average, GTA homebuyers paid about 8% above asking price for hard lofts in May. The average sale price for one of these coveted properties was $1,062,000 — or roughly $1,083 per square foot (PSF). In comparison, the average cost for condos overall in May was $867 PSF. Just take a quick scan of Toronto's hard lofts, and you'll realize why buyers are willing to pay a premium for these rare residences.
Even with the market being hot for hard lofts, there are a number of them listed under $750,000. From exposed brick and ductwork to soaring two-storey units, we bet it'll be hard to resist these properties!
160 Baldwin St, Unit 202 | $679,000 | Toronto
This unique Kensington Market unit features exposed brick and a second-storey bedroom overlooking the main living area. Located in the famous Kensington Market Lofts, this suite was once part of an old 1920's schoolhouse. The unit has more than 600 square feet of brightly lit space with large south-facing windows letting all that sunshine pour right in. And with 16-foot ceilings, you'll never feel cooped up, either! This modern suite also features plenty of storage space, including custom California closets in the bedroom.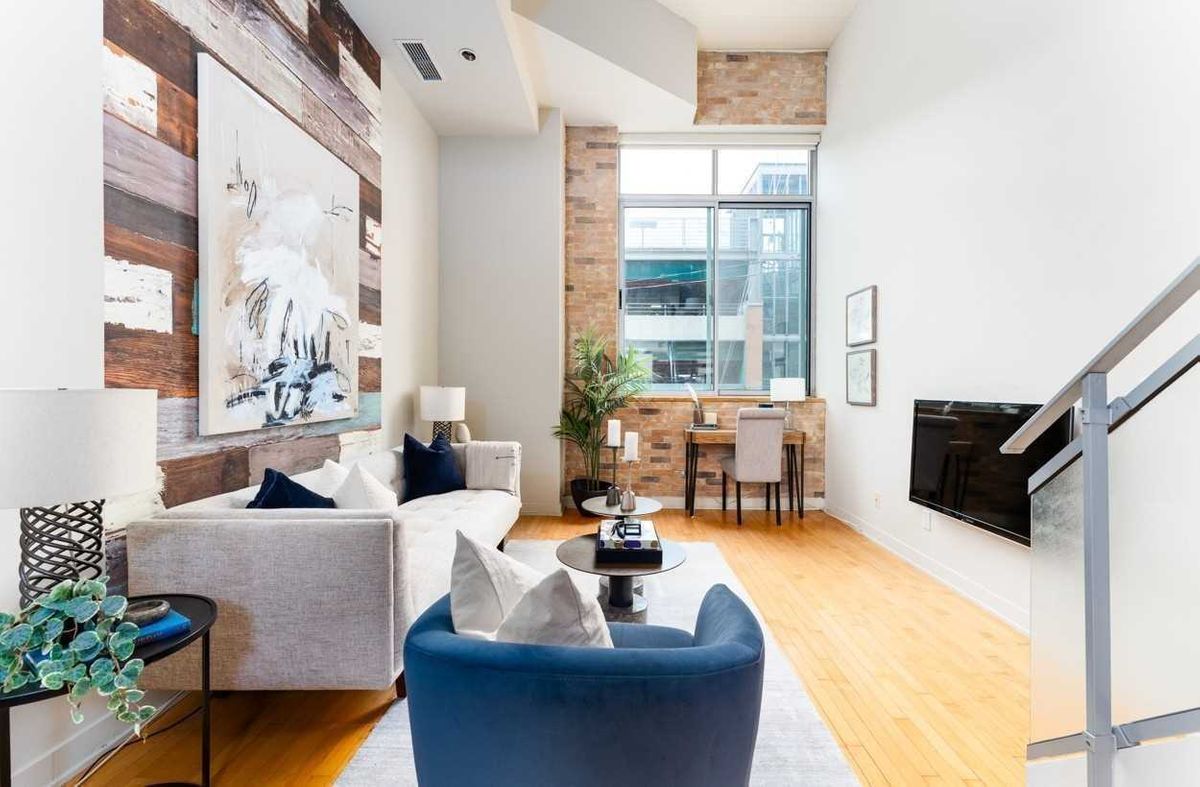 155 Dalhousie St, Unit 510 | $749,000 | Toronto
This quirky hard loft at The Merchandise Lofts was once home to the now defunct department store, Simpson's. Located in the heart of downtown Toronto, the one bedroom-plus-den features stunningly high ceilings with exposed ductwork. But don't forget — with high ceilings come high cupboards. That's why the kitchen has a special built-in ladder, so you'll never have to worry about those dishes being out of reach. The 775-square foot space also has a bright and open feel with huge warehouse-style windows to keep natural light streaming through all day long.
The Merchandise Lofts is among the largest in the city, with over 500 suites. As a result, you'll find better value here than in some of the more boutique hard lofts (like the Kensington Market Lofts above).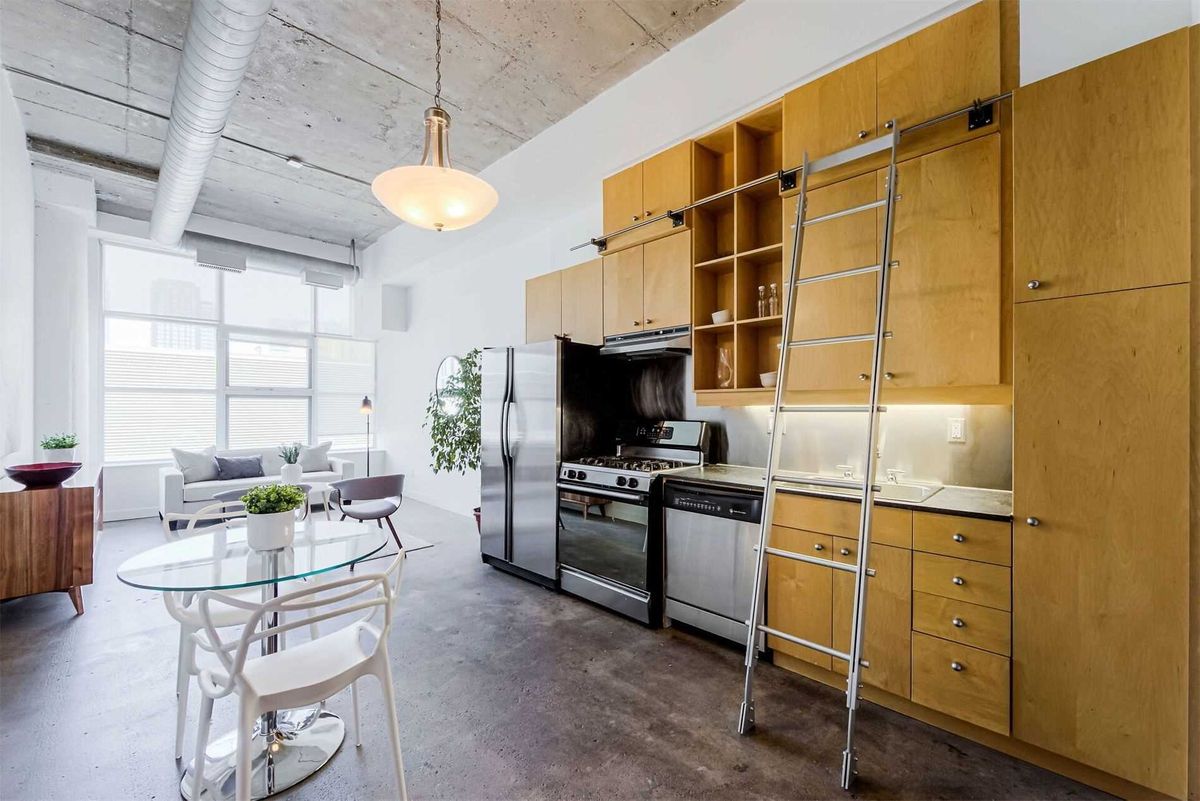 99 Chandos Ave, Unit 201 | $649,000 | Toronto
The Iron Works Lofts is what you get when developers convert a small industrial building into stylish boutique residences. This one bedroom, west end hard loft offers a unique open concept layout with plenty of natural light, thanks to its large north-facing windows. With more than 800 square feet of space, the unit features a large kitchen with ample cupboard and counter space. The kitchen island is moveable, so you can adjust for your needs. The unit has 12-foot ceilings in its principle rooms, making this hard loft feel even more open. While this property leans more modern than industrial in style, exposed ductwork and a large pillar in the living room give it something truly special.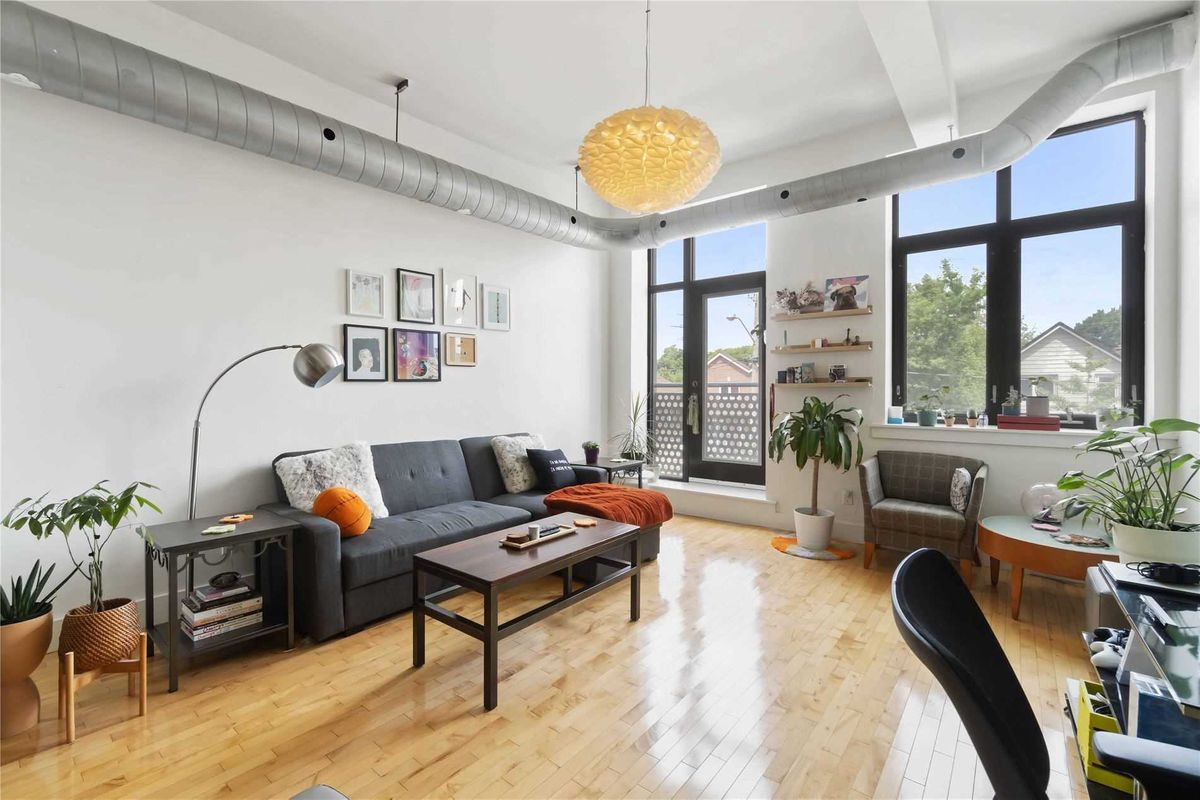 1100 Lansdowne Ave, Unit 210 | $749,000 | Toronto
This two bedroom hard loft in Toronto's west end is one of the city's most unique conversions. In the 1800s, the Foundry Lofts were once a manufacturing plant that produced everything from fire hydrants to railroad tracks. With more than 700 square feet of living space and large arched windows, this particular hard loft offers the classic look of exposed brick and ductwork. One of the things that makes this building unlike any other in the city is that the interior still looks like a factory. Meanwhile, residents can also enjoy the enormous expanse of the atrium, while reminiscing about the locomotives that were once made here.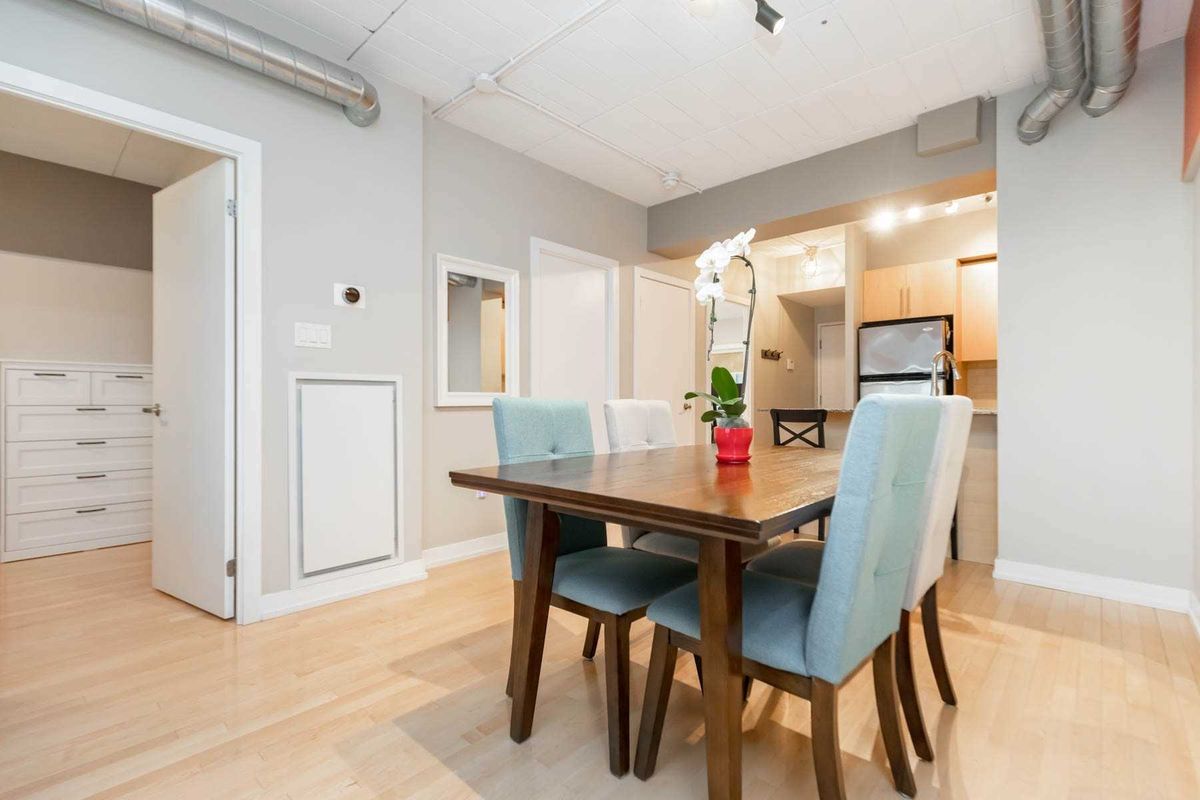 300 Manitoba St, Unit 208 | $699,900 | Toronto
Welcome to the Warehouse Lofts at Mystic Pointe, a building once operated by L.J. McGuinness Distillers. This two-storey Etobicoke unit offers a distinctive open concept design. The unit has a loft bedroom way up high (complete with custom closets), overlooking the main living area. With more than 800 square feet of space, this unit is certainly bright, open and just plain gorgeous. A gas fireplace and L-shaped staircase also make this a standout property, even among other hard lofts.